Greetings!
Today's feature of the day goes to the hand-carved, mind-boggling, simply divine bird sculptures of JJ-Studios AKA, Jenny Zhi. Zhi began bird carvings in 1989 as a self-taught hobby. Seeing her sculptures, it's no wonder that in 1995 she won first, second, and third place in the Wildlife Carving Festival in Kingston, New York. All of the birds in her collection are carved from solid basswood. The eyes are made from glass and the feet from copper. The birds and the bases are finished with acrylic paints. Each sculpture is one-of-a-kind and are truly stunning. There's just enough detail to make you wonder if they may fly away at any moment, but not so overly-detailed that they're a lifeless sculpture. The sheen on the feathers capture the light in the same way real birds do. Even the glass eyes have life shimmering in them.
Each bird's base is carved from basswood and is suited to the species. For example, bluebirds are farm birds and can be found on fences throughout the Spring and Summer, typically barbed-wire fences. Most of Zhi's bluebirds are sculpted onto barbed-wire/wooden fences. (see above) Oriole's love oranges, so Zhi places them on exquisitely carved and painted oranges. (see left)
All of Zhi's birds have a different feel to them that emulates an actual bird. From the proud nature of the raptors, to the jumpy nature of song birds. Zhi even captures hummingbirds in flight, precariously balanced from tiny beak to flower. Even the baby birds have wonderful expressions; their begging mouths hoping for a treat from their parents.
From songbirds to exotics, seed eaters to birds of prey, waterfowl to land birds, JJ Studios does not disappoint in the wide variety of avian life on display in their store. Each species beautifully represented and captured in sculpted form perfectly. There isn't much information on the artist's creative process or background, so I'll just let the carvings speak for themselves. (see below)
~Squirrel Creek Creations
Follow us on Twitter @SquirrelsCreek
Our Etsy store: www.squirrelcrkcreations.etsy.com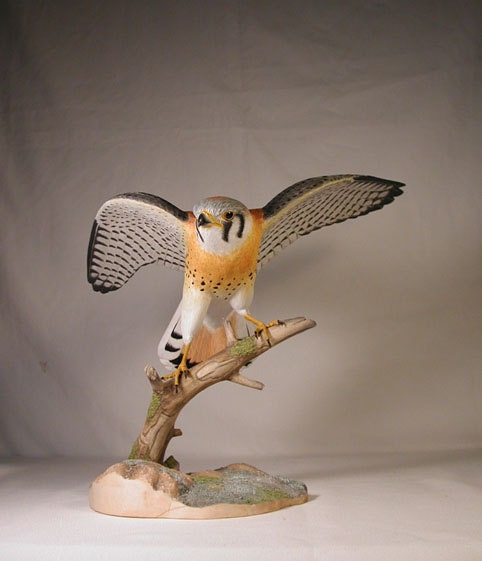 American Kestrel